Consider yourself very lucky if you're with a woman who climaxes fast and without fuss in bed. But if you're part of the breed of men who find it not-so-easy to ring her bell, here's sound advice. What better place to start than the position you take in bed?
Every woman is different when it comes to orgasm and potential for achieving it fast. But you can experiment with your partner to find out the best sex positions to make her orgasm – and scream in satisfaction.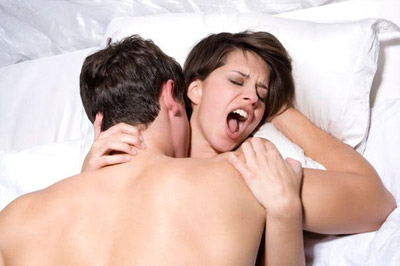 Coital Alignment Technique – Also known as coital adjusted technique (CAT), this face-to-face position is where the man rides higher than he would in the missionary, so that his head and shoulders are a couple of inches higher up the bed than usual. Don't just thrust in and out; focus on grinding against your pelvis.

What makes it sizzle: CAT allows for your pubic bone to rub up against her clitoris, and deliver some direct stimulation that most women need to orgasm. It's a great "starter kit" for gals who are a bit shy about the crazy, all-out positions. It's an intimate position to assume, too!

Doggy Style – We know you love it – but she will thank you for it too. Here she gets on her hands and knees while you kneel behind her. While you thrust, you can hold onto her hips. She can stay still or work her magic by pushing her hips back against you.

What makes it sizzle: The doggy is unforgiving – it makes for super deep stimulation. Women who orgasm from penetration will love that this position is intense and friendly with the G-spot. If she requires clitoral stimulation to orgasm, she may use her hand or a trusty toy for help.

Side Straddle – While a little complicated, this position will be her ticket to her own triple X action flick. Lie on your back with both of your feet flat on the ground. Have your woman crouch over you, with one of her legs between yours and the other on your side. She'll lower herself gently to your knees and "navigate" your penis inside her. She'll straddle one of your knees, and rocking back and forth to rub against your upper thigh and pubic part.

What makes it sizzle: It's the ultimate grind. She gets to dictate the pace and decide how much pressure will be placed on her clitoris. The mere novelty of this sex position will also get you two excited and raring for more.
Try variations and a wealth of positions for mutual fun and high orgasm potential. Ask what she wants and accommodate her request – tonight, her sexual pleasure is as important an agenda as yours.